2021 BENEFIT GOLF TOURNAMENT for UCP of NEPA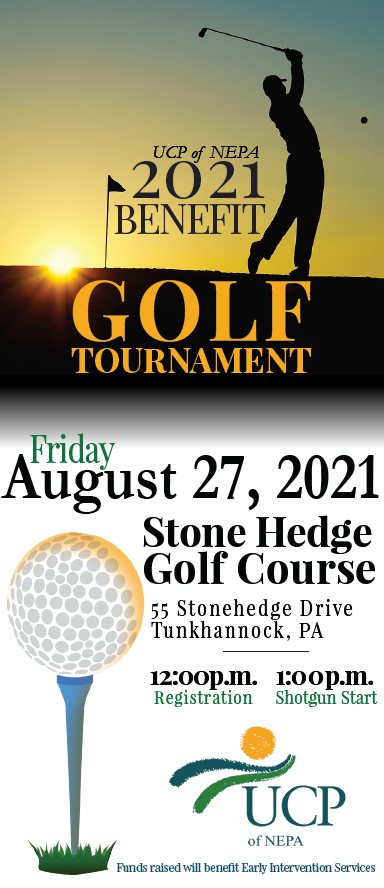 Join us on 𝗙𝗿𝗶𝗱𝗮𝘆, 𝗔𝘂𝗴𝘂𝘀𝘁 𝟮𝟳, 𝟮𝟬𝟮𝟭 at 𝗦𝘁𝗼𝗻𝗲 𝗛𝗲𝗱𝗴𝗲 𝗚𝗼𝗹𝗳 𝗖𝗼𝘂𝗿𝘀𝗲 in Tunkhannock, PA at 1:00pm for our benefit golf tournament.
The 𝘤𝘢𝘱𝘵𝘢𝘪𝘯 & 𝘤𝘳𝘦𝘸 𝘧𝘰𝘳𝘮𝘢𝘵 tournament will begin at 1:00pm
 with a shotgun start. Registration opens at 12pm, noon.
The cost is $𝟵𝟱  per golfer. This fee includes:

one, 18-round of golf

golf cart

cookout lunch, beverage

dinner
Proceeds
All proceeds for the 2021 Benefit Golf Tournament will support UCP of NEPA's Early Intervention program. This program provides therapy and educational services for children with special needs up to three years of age.
Sponsorship Opportunities
There are three sponsorship levels for our Golf Tournament.
UPC GOLD Sponsorship
$600.00
Company name on golf hole, tee off area
Company name at registration
Foursome
Social media, website recognition
UPC TEAL Sponsorship
$250.00
Company name on golf hole, tee off area
Company name at registration
Social media, website recognition
UPC GO GREEN Sponsorship
$100.00
Company name on golf hole, tee off area
Social media, website recognition
Want to Become a Sponsor or Have Registration/Sponsor Questions?
Please contact Rae Baldino at (570)347-3357 x.33, (570) 589-7414, or r.baldino@ucpnepa.org