Responding to COVID-19 | Assistive Technology Donations
We are now accepting Assistive Technology Resource Center (ATRC) donation drop-offs. All donation drop-offs must be scheduled with our AT specialist in advance. Please contact us at (570) 347-3357 or atrc@ucpnepa.org to schedule your donation drop-off.
We are currently accepting the following items for donation:
wheelchairs
transport chairs
commode chairs
shower chairs
rolling/seated walkers
canes
Responding to COVID-19 | Assistive Technology Lending Policies
Additionally, our Assistive Technology Lending Library (ATLL) is reopened and now loaning out AT items by appointment only. Please contact us to schedule an appointment.
We are currently loaning out the following items:
adaptive phones
low vision aids (magnifiers)
modified eating equipment
hearing equipment
adaptive computer equipment (keyboards, mice)
*Please check back here for updates on new, additional items.

UCP of NEPA serves as one of nine Assistive Technology Resource Centers (ATRC) in partnership with TechOWL., PA's initiative on assistive technology.
We offer assistive, adaptive and rehabilitative devices for seniors and people with disabilities. Assistive technology (AT) is broad term that refers to any equipment that aids with the completion of a task for a person with a disability.
The ATRC serves individuals with disabilities regardless of their age, disability, location or type of residence.
The ATRC is located at 425 Wyoming Ave in Scranton and can be reached toll free at 1-877-UCP-TECH Monday through Friday, 9 a.m. to 4 p.m.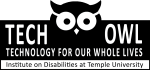 Programs We Provide
Assistive Technology Lending Library (ATLL) - is a free, statewide program, in partnersnip with TechOWL, where individuals can borrow different types of devices to find what works best. Try before you buy!
Click here to learn more>>
Free Special Phone Program (formerly TDDP) - provides specialized phones free of charge to eligible Pennsylvanians with disabilities who have trouble using the phone independently.
Learn more>>
Services We Provide
Public Awareness - Information and referrals to help educate consumers about their choices of AT devices and service providers. We conduct and participate in events to help everyone understand the range and benefits of AT. Contact the ATRC at 1-877-UCP-TECH to arrange for a presentation at your organization, group meeting or conference.
Device Demonstrations - "hands on" opportunities for people with disabilities and their family members to explore specific AT devices and decide what may best meet their needs. Device demonstrations are available upon request, and can be conducted at a mutually convenient time and location.
Training & Technical Assistance -

For service providers to increase their AT related knowledge and skills to better support people with disabilities. For public and private agencies to develop and improve policies related to access to AT devices and services.
Fill out the form below. Our AT specialist will get back to you to see how we can help you!
UCP of NEPA is the designated ATRC for Bradford, Lackawanna, Pike, Susquehanna, Wayne, Wyoming counties.
TechOWL is the Commonwealth's Assistive Technology Act Program at the Institute on Disabilities at Temple University, funded through grants from the Administration on Community Living, U.S. Department of Health and Human Services, Office of Vocational Rehabilitation.
Additional Resources
iCanConnect - will ensure that low-income individuals who have combined hearing and vision loss can access telephone, advanced communication and information services. This is made available through the National Deaf-Blind Equipment Distribution Program. Learn more>>
Pennsylvania's Assistive Technology Foundation (PATF) - provides either low-interest or 0% interest loans for individuals of all ages, income levels and disabilities to purchase AT devices and services.
Learn more>>