Scranton Area Foundation Awards Grant to Lekotek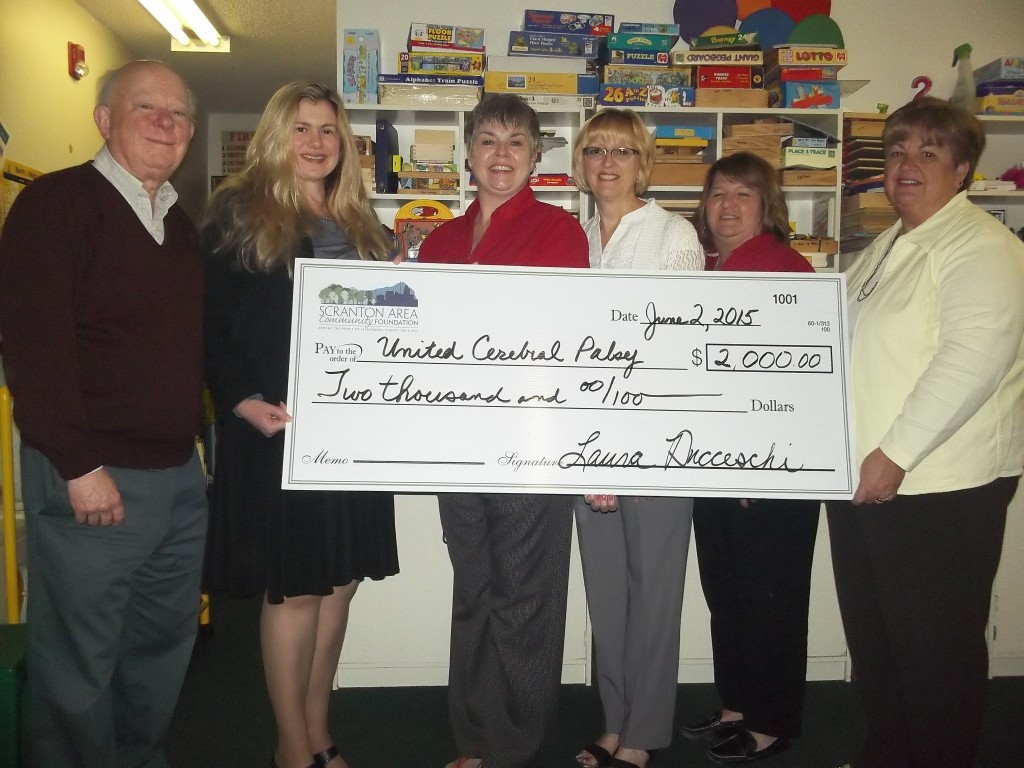 The Scranton Area Foundation awarded a $2,000 grant to UCP of NEPA's Lekotek program for ongoing support. The grant is through the Macialek Irrevocable Gas Trust, which the Foundation administers.
From left: Alan Hughes, SAF Board Member; Laura Ducceschi, SAF President & CEO; Sarah Drob, UCP Executive Director; Sally McCullon, Lekotek Leader; Cheryl Burger, UCP Children's Services Coordinator; and Cathy Fitzpatrick, SAF Grants Administrator.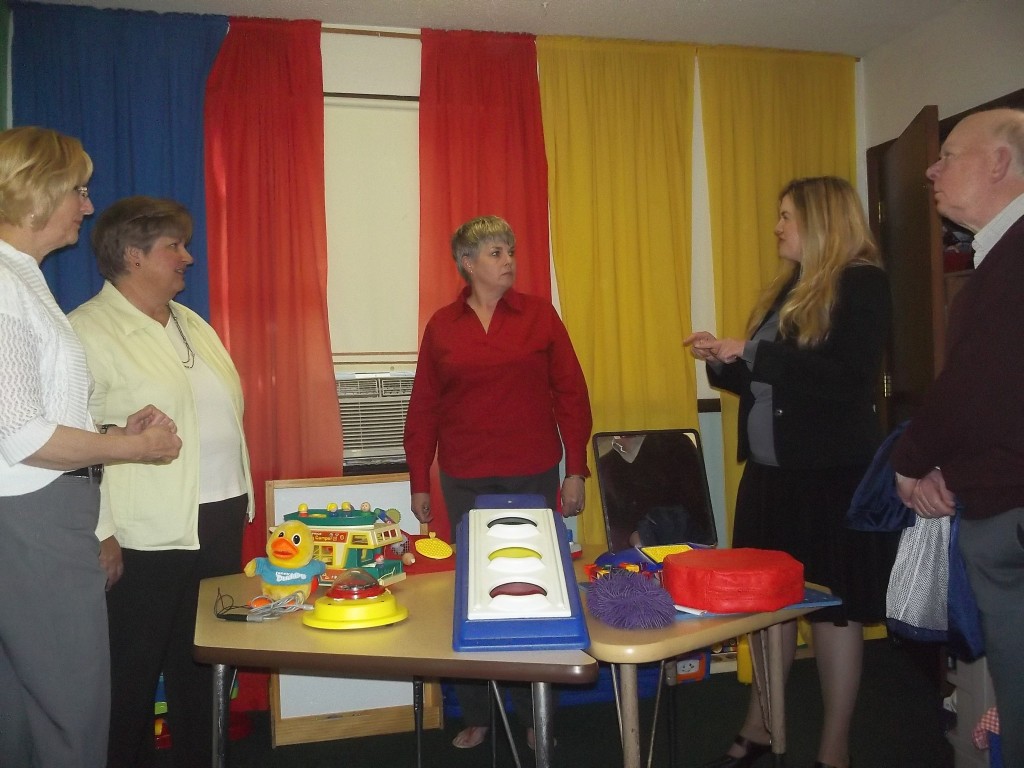 During their visit, SAF officials had a chance to see some of the toys used in the Lekotek program. In monthly sessions at the center, children play with typical and specially adapted toys chosen specifically to work on their developmental needs and goals.
Parents and siblings can participate in the monthly sessions and toys can be borrowed so that the family can continue the activities at home.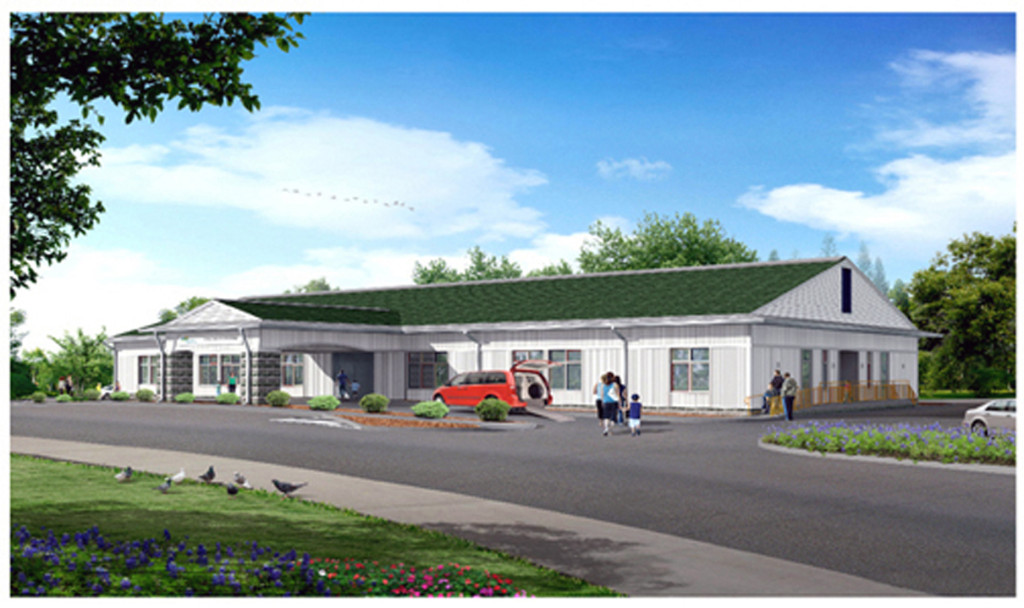 Fit Stock 5 Surpasses Goal!!
Organizers of Fit Stock 5 surpassed their own $10,000 goal, raising more than $13,000 in the two-day event which is centered around a high energy workout session set to live music which was held at the Blakely Borough Recreational Complex on Saturday, May 30th. The festivities included a pre registration party featuring refreshments and a basket raffle held at NEPA Fit Club on Friday evening, and an after party at Caverna on Saturday night.
Pictured presenting the check are – Front row, kneeling; Phil Cappelini, Ned Collins, Renee Marcinek, Nadine Homentosky and Steve Baronski.
Standing: Amy Shwed, Leann Symuleski, Jennelle Wasilchak, Mike Marcinek, UCP Executive Director Sarah Drob, Danielle Alu, Wendy Yankelitis, Jessica Kearney, Karen Ross and UCP Board President Lynn Hutchings.
Additional committee members were: Antoinett Bonacci, Deb Cosenza, Jon Dressler, Maggie Ferraro. Jennifer Loftus, Matt Marcinek, Myron Marcinek, Lyn Passeri, Holly Scacchitti and Anita Young.
UCP Holds 62nd Annual Meeting
UCP of NEPA marked 62 years of service at the Annual Meeting & Staff Appreciation Dinner held on June 30th at The Melting Pot in Scranton.
Officers for the 2015/2016 term are: B. Lynn Hutchings, President; Barbara Partyka, Vice-President, Edward Karpovich, Treasurer; and Marilyn Vitali, Secretary.
Three staff members were honored for their years of service: Janice Edmunds, 15 years; and Marianne Davis and Denise Kimes, both for five years.
Board members in attendance at the dinner were: seated; Linda Gable, who was recognized for completing her third 3 year term; Lynn Hutchings, incoming President; Louise Krafjack, Life Member; and Marilyn Vitali, Secretary. Standing; Robert Jones, Jr., Tony Cardell, Life Member; Barbara Partyka, Vice-President; and Mark Bennett, outgoing President.
Seated: Marianne Davis, Janice Edmunds and Denise Kimes.
Standing: Incoming President B. Lynn Hutchings, Executive Director Sarah Drob, and outgoing President Mark Bennett.